Pilgrimage
We offer talks on the subject of Pilgrimage, and share here the blog from our Olav's Way pilgrimage, and help pages for those thinking of becoming a Pilgrim. Follow the links on the left. Buen Camino!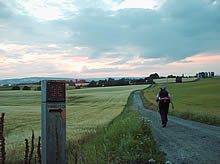 Talks
We offer a variety of talks on Pilgrimage suitable for all audiences from children to your local Women's Institute, Church groups and Pagan conferences. All our talks are illustrated with Powerpoint (and sometimes with live music), and our practical talks are accompanied by useful handouts.
We can talk on the spiritual or historical aspects of Pilgrimage, or give a practical talk for groups of walkers thinking of undertaking a long pilgrimage.
Get in touch to discuss your requirements.