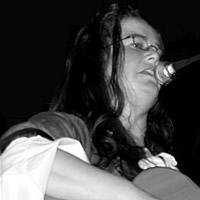 Kate Fletcher
"Raised on porridge and song in a family of eccentric musicians in Reading. Great ambition to be a diplomat so studied languages very hard, and lived in France and Spain. Got a mad idea to walk back to Spain one day...

Wrote my first song at 19 and worked with my brother Colin on crafting and recording songs. Lived in France and decided I should have studied music after all. After failing to get into the Foreign Office, recession left me unemployed and so I took to playing music all night under Isambard Kingdom Brunel's railway bridges at Kennetmouth, Reading.

Bought a Narrowboat to live on. Everyone said it was a phase. I still have the boat. It's red at the moment. Formed a band, called Epona, which did really well. Played mostly my songs, usually written in collaboration with one or both brothers. Nancy came to play with us, and then Tony. Made an album, which included a song about walking to Spain...

Started teaching voice. Took time out to train as music teacher. Started writing and performing solo. Met Corwen who also wanted to walk to Spain... Wrote a song about being nearly ready to walk to Spain... Walked to Spain. Came home by bus and decided to record solo album at last now walking to Spain out of the way. Moved in with Corwen and started teaching in Dorset. Walked across Norway. Just for fun. Recorded my solo album, Fruit, with Robert Harbron doing all the techy stuff. We had a lot of fun in caravans."
Discography:
2006/7 Fruit
2000 The Fletchers CD with brothers Jon and Colin
1998 Tommorrow Is My Birthday
1997 Epona, Shine Again.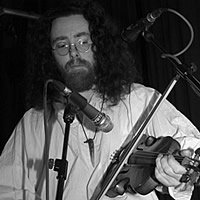 Corwen ap Broch
Corwen grew up in Dorset with his grandparents who were The Last Of The Victorians. Thus instilled with a love of spartan living, chipping ice from the inside of the bedroom windows, open fires and outside toilets, he ran away with the Travellers and spent many years in festival cafes, down protest site tunnels, busking or sleeping in the back of vans.

New Traveller culture being what it is he quickly learnt to play lots of instruments. He is older now and his knees make bad noises when he sits on the pavement so these days he gigs and makes ancient musical instruments like lyres and bone flutes for a living. He will talk about them to anyone who will listen. He is a Druid and has a robe to prove it.
Corwen plays (to varying degrees of competence) whistle and low whistle, recorder, various bagpipes and reedpipes like bombardes and pibgorn, flutina, appalachian dulcimer and epinette, the mandolin family, English style fiddle, bowed lyre and percussion.