Talks
Camino de Santiago Hints and Tips

Hints and Tips for Olav's Way
This page is divided into two sections, firslty a section on kit as 'what do I need to take?' is often the Pilgrim's biggest concern. Secondly at the foot of the page we'll share with you some more general things we discovered on our trek on Olav's way (which you can read about here), things you might find useful.
Kit
If you are thinking of going on any long distance walk the question of what kit to take will surely excercise your mind for many an hour. Before we left we spent a long time refining our kit list, luckily we had the experience of the Spanish Camino to draw on. It is unlikely that Olav's way will be your first long distance walk (God help you if it is...) so I apologise if you find any of this page patronising, but I'll present the information as if for a complete walking novice just in case.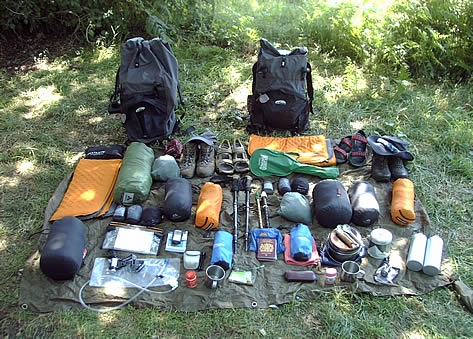 Things You Have to Have.
A Rucksack. You will need at least a 35 litre (if carrying a bivvy bag and no cook kit), and more likely around 50 litres. There are two important points to remember when choosing a sack, firstly and most importantly the weight of the bag. Some trekking packs weigh 2.5 kilos or more. This is madness. The pack does nothing for you except stop your stuff falling on the floor! If you think you want at the most to carry 10 kilos, and hopefully less, a quarter of your weight budget gone on your pack is crazy. The second factor is comfort. You may want a pack with a back system that holds the pack away from your back (less sweaty), you definitely want a pack that fits properly!
We did a lot of research and hit upon the Golite range of packs, taking one of their Jam, and one Gust packs. They weigh only 600 grams each (incredibly light) and use your bedding roll mat (preferably a thermarest prolite short) as the padding, getting double use of that and becoming in the process very comfortable and very adjustable. If you really want a sweat reducing system the Berghaus Freeflow Light is good at 850 grams, but is only 35 Litres, so you may need to strap some stuff on the outside. (Since this was first written Golite's packs have actually got heavier! If you can find the old design then snap them up, if not do some research, there are comparable designs out there.)
Whatever you choose line it with something definitely waterproof. We found bin bags not waterproof enough, and couldn't buy the orange survival bags we'd normally use, nowhere to be found in Norway. When planning we'd ruled these out as too heavy, but a pint of water in your sleeping bag is heavier!
Something to Sleep Under. With a great deal of forward planning, and the use of taxis and public transport to take you back to the last town/forward to the next at the end of a days walk, it is possible to do the walk using hotels and not have to carry a tent. However this adds a lot of complexity, and removes a great deal of Pilgrim Spirit from your journey. Accommodation is also hugely expensive in Norway. So take a tent or bivvy bag. Lightweight tents such as the Vaude Hogan Ultralight, Terra Nova Laser and Mountain Equipment AR Ultralite weigh around 1.5 kilos or less, comparable with a bivvy bag (and the extra weight of synthetic sleeping bag which you will need if using a bivvy bag), so I would only take a bivvy bag if you are used to them and have a masochistic streak! We took the Vaude and it was fantastic. Something to consider is how self supporting the tent is. On thin mountain soils getting lots of tent pegs in is a challenge, thats why we took the Vaude rather than the lighter Laser or AR, because it can be easily erected with sticks and rocks rather than pegs as it is semi self supporting.
Something to Sleep On. There is only one choice, the Thermarest Prolite 3, Short to save weight but Long if you really don't want to put your coat under your legs. You could save 50 grams and get a closed cell mat but you won't be as comfortable.
Something to Sleep In. A down sleeping bag is much lighter than a synthetic one, and they have come down in price a lot lately. They aren't as good when wet (so don't combine down bag and bivvy bag), but then you won't be letting it get wet, will you? It is cold on Dovre Fjell, so even if walking in the summer your bag will need to cope with 5C or so, wear all your clothes rather than carry a heavier bag. Much warmer than that though and you'll be too warm in the lowlands. We used Marmot Arete bags (the only down bag we could find with both left and right zips) and they were perfect.
Water Filter. For most of the route you will be able to get water from houses (even if no-one is in many have an outside tap), but for some of the time you will have to drink from rivers or streams. A water filter eliminates the risk of catching something nasty from the sheep grazing farther up the mountain... It also means you have to carry less water, which is heavy, and you can camp right out in the wilderness without having to be near a house for water. I think we only used ours half a dozen times, but I would still consider it essential as running out of water is a serious trauma and we heard stories of Pilgrims getting sick from drinking untreated river water in one or two places.
Guide Book. The cicerone guide by Alison Raju is the only English language guide, and actually the only step by step guide in any language, so I have to recommend it. However you will be frustrated by how out of date it is. There are two routes described inside, since you'll only be walking one you can tear the other out. Paper is heavy!
Clothes. Pretty much essential unless you are a very dedicated naturist. In Norway's damp climate breathable waterproofs are essential, as is clothing sold as 'fast wicking' and 'fast drying'. Buy a waterproof jacket and trousers rather than a poncho, a poncho is not the thing when you might be rained on for days on end as your legs and boots will get soaked, and it is difficult to manage in high winds. Go for clothes with 100% polyamide (nylon) fabrics, they are horribly unflattering and clingy but they will keep you warm/cool as required and dry fast. No point in dying of exposure leaving a fashionably dressed corpse in some moutain pass. Lightness is another big consideration. Take a lightweight insulated jacket (under 500 grams), but you will need a cool T-shirt and possibly shorts as it can get hot too. Its tricky when you have to deal with such extremes of climate in one journey. I'd also recommend you take pertex windshirt, and wind-trousers too, you'll be glad you did, nothing adds so much warmth for so little weight.
First Aid Kit. Add Tea Tree oil for athletes foot, you can't buy it in Norway. A small phial of iodine is the best antiseptic for cuts and scratches.
Documents/Credit Cards. If you have several cards take them all, we found that sometimes one or other wouldn't be accepted seemingly randomly. You won't find cash points in the countryside so stock up on cash before leaving town.
Hat. A waterproof one like the Paramo Mountain Cap will be good, it will keep the sun off too.
Toilet Paper. Bury it or burn it. Your poo will go away by itself, but the paper is pretty indestructable.
Lighter. To burn the above paper, light your cook stove (even if you have a heavy one with built in sparker, these are not reliable), light fires in an emergency etc.
Things You Might Like to Have
Cook Set. Some ultralite enthusiasts eschew cooking in favour of a diet of trail mix and chocolate biscuits. However a hot meal is a great morale booster and the weight of a cookset allows you to carry light dehydrated food. There are a few camping shops on route where you can buy dehydrated meals, but we found instant mashed potato teamed with either tinned sardines (favourite, put the oil in too) or corned beef (for variety!), instant noodles and muesli with water and wild berries for breakfast (find one that includes whey powder, its almost like having milk with it) to be a good staple diet, lightweight and cheaply available in Norwegian supermarkets. Buy the lightest gas burner and saucepan you can find, screw top gas canisters are readily available en route, French pierce-able type ones less so.
Torch. You'll probably hardly use it, in summer the days are so long and night is permanent twilight, but best take one just in case. Since you won't use it much the lightest one possible seems sensible.
Telephone. A good safety aid when walking in remote areas. Because the route follows the E6 motorway, you will get signal everywhere. We just turned ours on once a day to check/send messages, and took a spare battery. The two batteries lasted the whole 40 day trip without needing charging.
Book. No point in having one for the walk but you might like one for the outward and return journeys. Don't feel you need to carry one all the way to read on the return journey, you can buy English language books in most bookshops.
i-pod. The walking will be lonely if walking alone. We met only one other pilgrim the whole way so there just isn't the social life of the Spanish Camino, a little music might be a good distraction.
High Visibility Vest. Walking along the E6 may be a necessity to avoid bad weather higher up on Dovre, or just if you fancy cutting out one of the more pointless ascents. Take one and be safe, they are not heavy. Orange is brighter than yellow in the Norwegian light, though its hard to find an orange vest with reflective strips, I couldnt, so we sewed reflective strips to the back of our packs and our shoulder straps.
Mosquito Head Net. Only used it once but it was good to have, considering they are cheap and light.
Red/Yellow Ribbon. For adding waymarks to help those that come after you.
Camera. As light as possible with a REALLY big memory card.
Trekking Poles. As light as possible. They do save your knees on such bad terrain.
Phrase book. We took one but never used it as everyone speaks English.
Girls only. Kate recommends the Mooncup as the ultimate trekkers 'sanitary system'. Under 50g, green, clean and reuseable. Pays for itself in just a few months.
Lightweight Pumice stone. You can get an artificial pumice now from chemists that weighs practically nothing. Good foot maintenance.
Things You Won't Need...
GPS. Its hard to get maps and they are heavy and the route isn't even marked so its perhaps best not to bother anyway! A GPS is no use without a map. Also its hard to get properly lost, the E6 or the Mjosa or the valley bottom is usually visible to one side or the other. What you might lose is the actual path you are meant to be on, until someone marks that on the maps a GPS won't help as much as keeping your eyes open and reading the guide book carefully.
Insect Repellant. This stuff is heavy and toxic. Despite a lot of people saying Norway was full of biters we didn't find it too bad. During the day mosquitos are present in a few woods but fly about at knee height. We got bitten on the legs when wearing shorts so took to wearing trousers rolled up when hot and rolling them down when going into the woods. Just before dark they come out again in most places near water but by then you'll be asleep in your tent. They were always gone when we got up. Only when cooking dinner outside the tent in the late evening, on Dovre and next to a river did I think they were bad enough to put my head net on.
Shampoo. Its so heavy, carry a couple of the little sachets if you really have to.
Notepad. If you must but why not write in the margins of your guidebook?
Airplane Ticket. Do the Earth, all our descendants and all other living things a favour and go by train, coach and ferry. If you live outside Europe, why not travel by container ship (yes it is possible) or work your passage on a yacht (yes it is possible).
Strange Things We Took You Might or Might Not Want To...
Ukulele. If you are a musician not having an instrument will drive you squirly. A Mahalo rainbow uke weighing in at just 350g costs just a tenner and will be a fantastic addition to any pilgrim outfit. Busk your way out of hostel bills and rainclouds! Make friends and influence people... Ten times lighter than a travel guitar and 100 times funkier.
Folding Tin Whistle. Less than 50 grams. Not a real substitute for bagpipes but good teamed with the Uke and kept Corwen happy.
Cockle Related Jewellery/Headscarf. Pilgrim Chic, marks you out as a Pilgrim to those who know.
A Pebble from home to leave on Allemanroysa, Cruz de Fer style. Also don't forget to dip your feet in the sea at Oslo so you can dip them again at Trondheim Fjord.
Tea Bags. You can buy milk in Norway but can you buy proper English Tea? Nope... A dozen or so bags weighs little but is a great treat on a rest day. Thanks Kate.
Girls only. Kate says some days she just wants to waft about and look girlie, so, as outdoor clothing companies have failed to spot this niche market she made herself a minimal ultralight 'frock' out of black pertex from Ringwood Fabrics. It weighed about 100g.
Our Pack List
It seems the done thing to tell everyone what you took so here it is:

Corwen:

Rucksack: Golite Gust.
Tent: Vaude Hogan Ultralite.
Boots: Meindl Gore Tex,
Sandals: Decathlon own brand I bought in Spain.
Trekking Poles: Leki Titanium Ultralite.
Sleeping System: Arete Marmot Down bag, Thermarest Prolite 3 Short.
Clothes: Trekmates long sleeved base layer, Wicking T-Shirt, Running shorts, Trekmates Pertex Windshirt, Ex Officio Polyamide walking trousers, 3 pairs socks (threw away and bought more as we went). Mountain Equipment insulated jacket. Didn't take gloves but needed them! X-Ert baseball cap.
Waterproofs: Outdoor Scene Mini Pac Jacket and Trousers.
Hydration: 3 litre Platypus. Hiker water filter.
Miscellaneous: Plastic map case, first aid kit, headscarf, small camera, Ukulele, Recorder, Tin whistle, guide book, phrase book, documents and cards. Tin Mug. Small head torch, telephone and spare battery. Vitamin Pills. Pebble, cockle pendant. Mosquito head net. Moomin story as secret treat for Kate.
Total Pack Weight: About 8.5 Kilos plus food and water (pack weight is weight of all of above minus boots and minimal clothes).


Kate:

Rucksack: Golite Jam.
Boots: Demon Ultralight ,
Sandals: Source X-Strap.
Sleeping System: Arete Marmot Down bag, Thermarest Prolite 3 Short.
Clothes: Trekmates long sleeved base layer, Craghoppers Wicking T-Shirt, Go-lite sleeveless T-shirt, Running shorts, Trekmates Pertex Windshirt, Helly Hanson polyamide walking trousers, 3 pairs socks (threw away and bought more as we went). 3 pairs briefs, 1 M&S sport crop top, Craghoppers Intelligent Response insulated jacket, homemade pertex pinafore dress!
Waterproofs: Outdoor Scene Mini Pac Jacket and Trousers. Trekmates waterproof broad brimmed hat.
Hydration: 2x1 litre aluminium bottles.
Cook Kit: Coleman F1 Ultralite gas stove, gas bottle, steel saucepan, 2xTitanium Sporks. Opinel knife. Lighter x2.
Wash kit: 2x tooth brush, Weleda salt toothpaste, 1/2 bar soap, toilet roll, 12" square magic towel, mooncup, tiny hairbrush.
Miscellaneous: Cockle Headscarf, Tin Mug. Vitamin pills, cockle pendant, glasses case, Mosquito head net. Organic Tea Bags as secret treat for Corwen.
Total Pack Weight: About 6 Kilos plus water (pack weight is weight of all of above minus boots and minimal clothes).

What We Would Change if We Did it Again:
Kate's Demon boots were far superior to my Meindl ones, lighter and more waterproof so I would take those. I wouldn't bother with sandals, instead I'd take the lightest running shoes I could find as spare footwear. The sandals were too heavy for the use they got. The zip broke on Kate's Helly Hanson trousers so we might get another brand. I'd take an even smaller torch, and more tea tree oil as we ran out and couldn't buy any more. We waterproofed with bin bags but would use cut down heavy plastic survival bags as our stuff got wet a couple of times. Could save weight by replacing the steel pan with aluminium or titanium, and the opinel with a plastic handled knife. I'd definitely take gloves. It was cold as we got to Dovre and so I had to buy gardening gloves to wear! Kate doesn't feel the cold as much as I do.
If You Travel Alone...
...you will have to carry everything yourself. It might be worth not taking a Ukulele and a Recorder which would balance the additional weight of cook/wash kits! With thought you should be able to keep it under 9 kilos. I'd still take a tin whistle though if I were you...
Other Hints and Tips
Norway is expensive, accommodation and food especially so. Take a tent, the Youth Hostel was 30 pounds per person per night! There is some free/cheap accommodation for Pilgrims however.
Buy light and cheap instant mash, noodles and tinned fish. Plan ahead so you don't carry unnecessary amounts of food. The location of supermarkets/garages is in the guide book.
All the garages sell food, many sell hot food (if you can afford it). We found that 1 days food was enough in built up areas, 2 days in the countryside and 3/4 days for the Dovre crossing, assuming you eat out when possible on Dovre.
Payphones are practically non existent, so if you want to keep in touch with someone take a mobile. Internet cafes are nowhere to be seen.
The ground is hard and stony in places so a self or semi-self supporting tent is best.
Everyone is friendly and happy to help, ask anywhere for water. Help yourself from an outside tap if no-one is around, no-one will mind.
Almost everyone speaks good English, except the older generation. Ask the younger people in shops for help, unless you speak German which the older generation know.
Go to the Pilgrim Office as soon as you get to Oslo, Eivind will give you up to date accommodation advice, and a warm welcome to Norway.
It is legal to camp anywhere outside of town, provided you are more than 100m from a house and not on cultivated land. In practise that means you can camp almost anywhere you'll be walking! Feel free to camp even in full view, people will politely ignore you and give you privacy.
If you can't get out of town before nightfall you can probably find somewhere to sneakily camp in the churchyard (but don't say we told you to!).
There are always water taps in churches. Also most streams in wild or high areas are clean to drink from, though we used a water filter.
Take all your credit/debit cards, sometimes one will be declined for no reason. Cash points are rare except in bigger towns, so make sure you have enough cash for your needs till you get to the next big town.
Contrary to the guide book you cannot stay at Ringsaker Church. In fact the Priest we met was rude and unpleasant!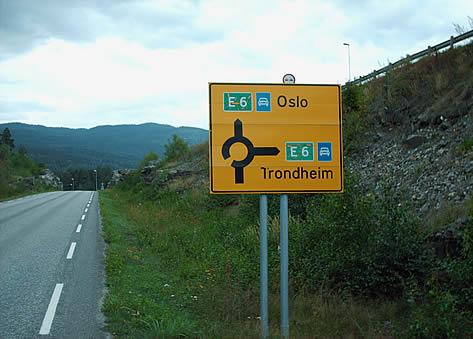 Some clear waymarking at last ....
The Intersport chain of sport stores are fairly common if you need to buy new camping equipment. A lot of shops in remote areas sell socks, gas etc. There are also specialist camping shops in some towns.
Dovre only has a supermarket however, and since this is the last stop before the 100km wilderness crossing with no shops make sure you get anything unusual you need before you get there! There is a good cafe though!
On Dovre Fjell although there are no shops you can eat well at the Furuhaugli campsite, but the Kongsvold Hotel is only open briefly in the afternoon. Driva Kro Cafe at the end of Dovre is well worth eating at, cheap and good.
Phone ahead to the Cathedral when nearing Nidaros as they will open the Pilgrim Office especially for you, give you a certificate and maybe give you lunch and a tour as well! They can contact a cheap hotel for you too. However don't rely on the Pilgrim Office being open unless you call in advance.
Campsites often rent out small cabins. They are open to haggling out of high season.
Campsites charge for showers! Yes its true! Even for washing up water on one occasion! You will need to get the appropriate coin for the slot machine from the campsite office, or have some coins in your pocket if you show up late and the office is closed.
The cheapest place to buy alcohol is the supermarket, in the form of small bottles of beer. Its still terribly expensive though, and unless you drink it in the carpark you won't be able to get the deposit back on the bottle!
Tourist Information Offices run an accommodation finding and booking service. A room in a house is the cheapest accommodation in a big town. We used this facility in Bergen whilst waiting for the ferry as all the Youth Hostels and Backpackers were full, it was great.
Its worth asking if hotels/campsites have a Pilgrim discount, a few have, or will give you a discount for being friendly/cheeky/spiritual/sexy/religious/musical.
There are wild raspberries, blueberries, strawberries and cloudberries everywhere. Eat them as supermarket fruit is horrible and expensive.
English language books are available in most bookshops.
Eivind's Norwegian language guidebooks have better maps than the Cicerone guide.

Great Places to Stay
Don't miss out on (in route order):
Ullern Gard (we didn't stay there but met the host, he was cool).
Lysjoen (free mountain hut) or Spitalen (cabin in old man's garden, donation for gas). These are near each other a few km beyond Floyta.
Sygard Grytting, very historical ancient pilgrim hostel.
Budsjord, fantastic cabin on mountain farm, with footbath and wood stove! Stay there before tackling the climb up to Dovre the next morning.
We didn't stay there but it is possible to sleep at the railway station by the Kongsvold Hotel on Dovre, where you may be glad of some shelter.
Halsetlokka Oppdal Camping, good cheap cabins though hard to find, take a right turn down the hill looking out for red waymarks a km or so after the Stolen Skisenter. Or walk a few km out of Oppdal on the E6 and its on the left.
Olskastet, a lovely little hut with firepit and spring. Dirty magazine and visitor book tucked up in rafters.
Haeverstolen Gardstun, beautifully presented pilgrim dormitory with reindeer skins, cooking facilities, wood stove. Cost us 10 pounds each.
Things To See:
Allow lots of time for:

Hamar Glass Cathedral and attached building museum (on the route).
Ringebu Stave Church, on the route.
Ringve Musical Instrument Museum, a bus ride from Trondheim.
For helpful links, check out the Pilgrim part of the links page.