Kate and Corwen's Norwegian Adventure
This is the part of our website for sharing our experience of walking Olav's Way in Norway, in July/August 2006. It is in the main a narrative account of the trip, so if you are planning to do the walk you might decide not to read it as it may spoil the suprise! We have also written a page of useful hints and tips, for those thinking of undertaking the journey themselves. And we have a little shop where you can buy Pilgrim things.
We are happy to answer any questions prospective pilgrims have about the walk, and we can also give an illustrated talk/lecture/workshop about pilgrimage in general and our pilgrimages in particular to interested groups. See our Main Pilgrimage page for more information on the talks and workshops we offer on the theme of Pilgrimage.
Overview
Olav's Way is an ancient route from Oslo in the south of Norway to Trondheim in the North. It was used in Medieval times as a pilgrimage route (Trondheim cathedral is the burial place of Saint Olav) and by Norwegian Kings who went to Trondheim to be crowned.
Pilgrimage was banned in Norway during the Reformation, but has been revived by enthusiasts, who lobbied to have Olav's way re-instated. Initially the route was waymarked in the 90s, leaving Oslo to the west, but was waymarked again following a northerly course closer to the ancient route a few years later. These two routes are both still in use, they meet up a little way into the journey. We followed the Northerly route, known as the Historical Route.
Our route started by going up and over the ridge above Oslo, then alongside lake Mjosa until it came to the centre of Norway where we crossed the watershed, passing over the wild Dovre Fjell, then descending followed the Oppdal valley to Trondheim. This path does not follow the old route exactly, having to avoid major roads, but does however follow the itinerary of the old route, and has much to recommend it both as a Pilgrimage and as a long distance walk. The route is 640 km long (around 400 miles).
Our Journey
We both feel that if you are undertaking a pilgrimage it is important to travel at a human speed and in a way that will not unduly damage the environment. With this in mind Kate and I travelled by train to Newcastle and then took the ferry to Stavanger. Sadly this ferry no longer runs though there are alternative routes via Sweden and Denmark. Check out Seat61 for information on surface travel around Europe.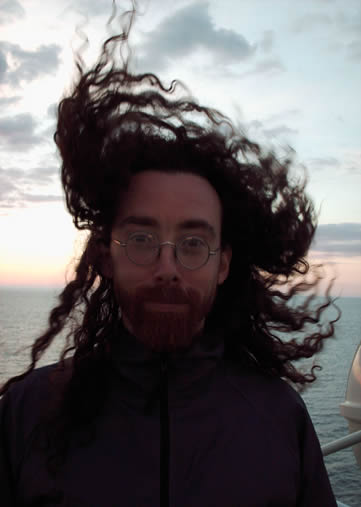 It was a very windy crossing.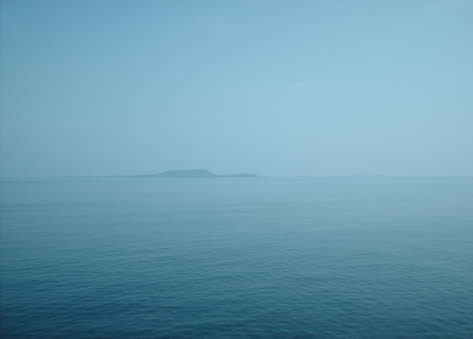 The ferry crossing was calm and sunny, though a bit breezy. We saw birds swimming in the sea far out, and then Norway emerged from the mist. We arrived in Stavanger in the afternoon.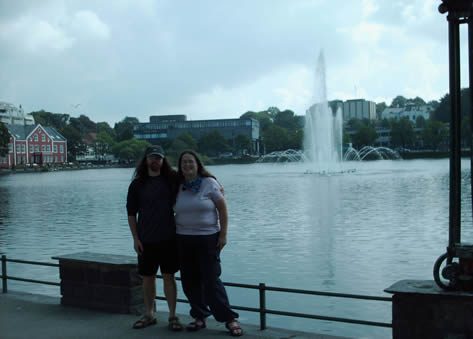 A Spanish couple took our photo in the park. It was just like being on the Camino! It was Monday and so the museum was shut so we killed time in the station until the night train to Oslo came.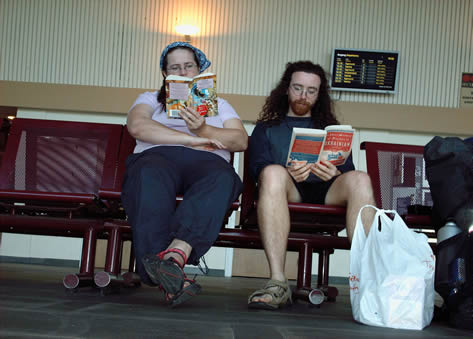 We had to wait a few hours for the train. The night train was very comfortable (railways are a wider guage in Norway so the seats are bigger) and the ticket was very cheap. They also gave you a blanket and ear plugs. It was busy with mostly Eastern Europeans and youngsters on military service, so we didn't get much sleep till the early hours when the stops get few and far between. If we did the trip again we'd definitely upgrade to a private sleeping compartment. However in the dawn light the landscape was terrific! Every cloud has a silver lining.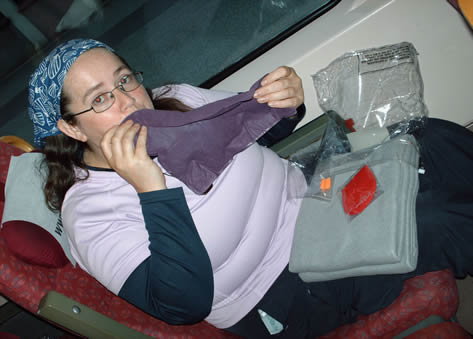 This photo was taken on the night train. Kate's eyes really are that colour, its the lack of sleep. Soon it was morning and we arrived in Oslo.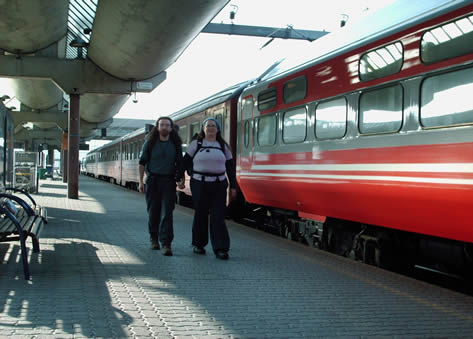 We had breakfast in the station and then headed off in search of the Pilgrim Office. This is manned by a friendly guy called Eivind Luthen.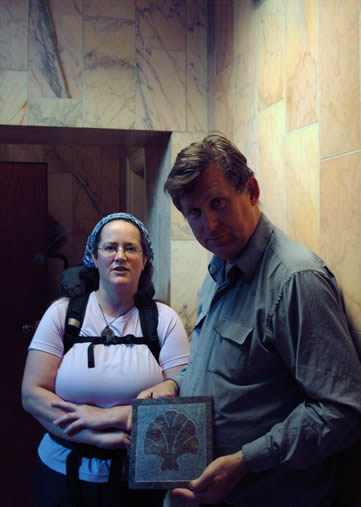 Eivind is a great guy. He has more or less single handed designed the route and is largely responsible for the revival of pilgrimage in Norway. Luckily for us he had just refreshed the waymarking out of town. He also gave us a guide to overnight accommodation which was very useful, and a map which covered the first couple of days walking. Dropping in on him is ESSENTIAL before you start to get the latest news about the route and accommodation.
For a civilised country Norway is not well mapped, and what mapping there is is not well organised. Maps are available in different scales, none of which are hugley useful! The sketch maps in the guide book we used are not adequate either, we found that the best maps are in Eivindl's series of books on the pilgrimage, but these are not widely available even in Norway, and the text is in Norsk. If you can get hold of his books and cut the maps out of them it would help you a lot, in combination with the Cicerone guide book's English text.
The waymarking is patchy too, so getting lost is quite a frequent occurence. Eivind gave us some waymarks to put up when we thought it would help, and I would recommend kind hearted pilgrims carry a spool of red or yellow ribbon to add waymarks. When you have been lost and find your way back to the path its often no trouble to walk back 50 yards and add a waymark that would prevent the next pilgrim from making the same mistake.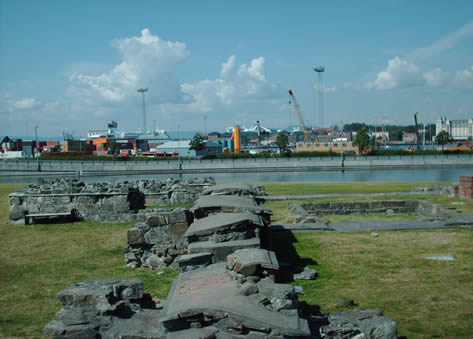 After seeing Eivind we set off across town to the starting point, a ruined medieval hospital. We couldn't follow the route in the guide book (an ominous start) but found our way there somehow. It was about 11 o'clock on the 3rd day of our journey and we were about to start walking. Only 643 km to go... We hunted around until we saw the first yellow arrow, on the end of a footbridge. I can't tell you how welcome that was! In a strange new country finding the familiar yellow arrow we remembered so well from the Spanish Camino was like meeting an old friend! We felt like a pilgims again.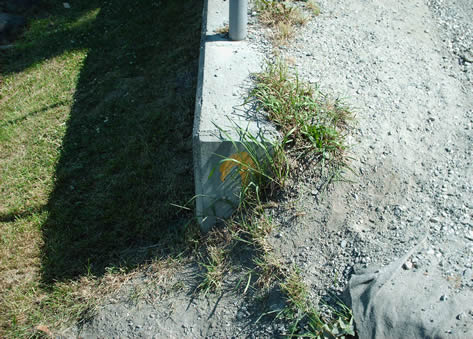 Eivind's new painted markings and the wooden posts that dot the whole length of the route made it easy to find our way out of Oslo, but the heat was tremendous and we weren't used to walking yet. We found it very hard going, the route constantly uphill and the sun baking. Kate especially became exhausted, she doesn't deal too well with extreme heat.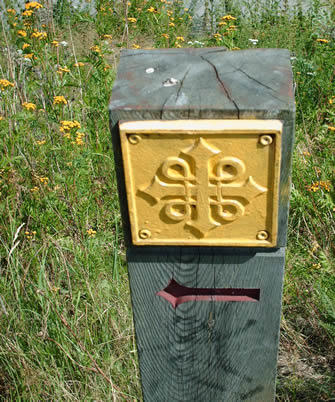 The wooden posts are quite obvious, but often aren't where you'd logically put them to show the way. They seem positioned more for the benefit of the locals who can say, 'Oh look, we live on a Pilgrim route'.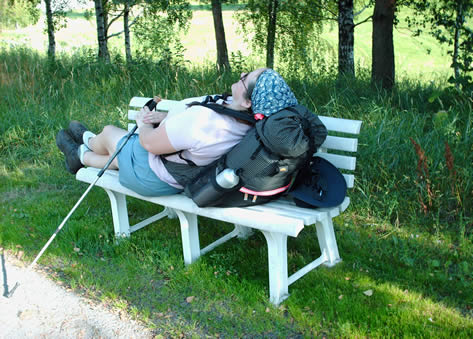 Kate was Bushed...
We found a bench just like the one by the firepit in our garden. Eventually after 7 or 8 hours walking we left the built up area and entered some forest. Eivind had told us we could find somewhere to camp here and we did, on a big flat rock, next to a burial mound. It was good to sleep somewhere horizontal that wasn't moving.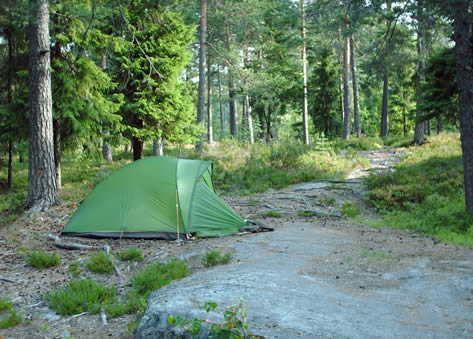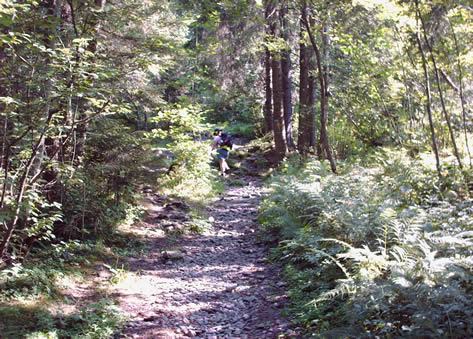 Oslo is on the seaward edge of a valley, so to go inland you have to climb over the ridge, a long climb. This was wooded and very steep, but by mid-morning we had emerged into open country.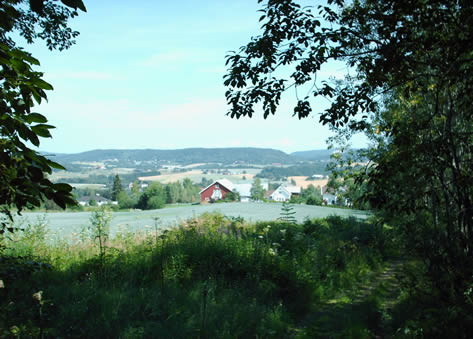 We had to cross the valley between Oslo and Lake Mjosa, which would take a few days. We walked mostly through farmland with the odd small town where we could stock up on coffee and waffles, and camped in a graveyard. Its legal to camp anywhere not under cultivation and not enclosed or near a building in Norway, which is great, but even though you are not supposed to camp in them we like to camp in churchyards as there is always water and they are peaceful. Its not always possible to time it right to ensure you are away from town when you want to camp, and if you camp near town the shops will be open when you get up.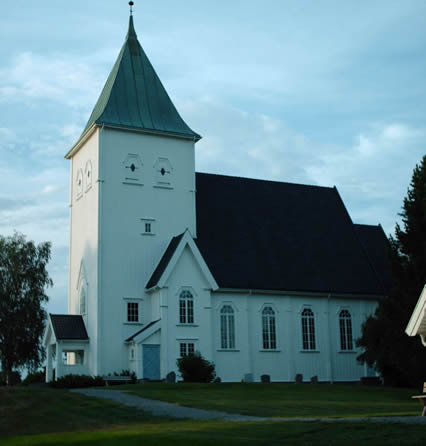 Churches make handy campsites...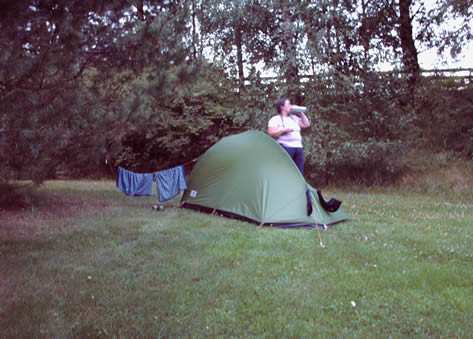 Norwegian graveyards are built on a bigger scale than ours, with big areas free of graves, lots of space for the future dead, or for Pilgrim tents... Hope Kate's knickers didn't offend the priest!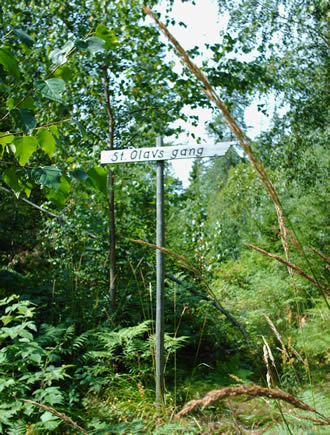 The next day back into the woods. By now we felt we were in St Olav's Gang, and found a sign telling us where to go.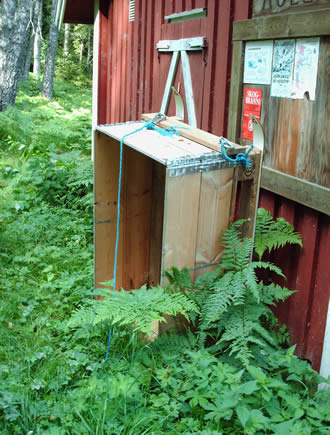 It was hard to believe in the 30 degree heat that anyone would need a sled to live here!
Soon we left Skedsmo and were in Ullensaker, sacred to the god Ull. They have made man-holes in his honour. We met a very interesting character called Kris who lives on Ull's old temple mound, stupidly we didn't take any photos. He ran a pilgrim hostel, but it was too early in the day to stop. He gave us directions for the next bit of the route which was terribly overgrown and involved crossing the worst bridge on the whole route (at least the worst one still standing, all the worse ones had been swept away!).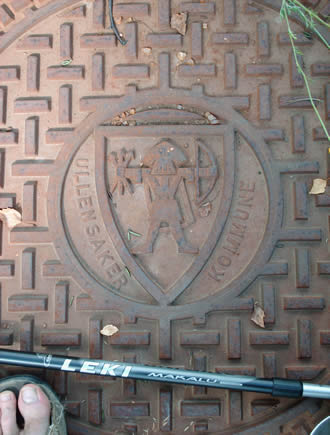 Ull, God of archery and skiing.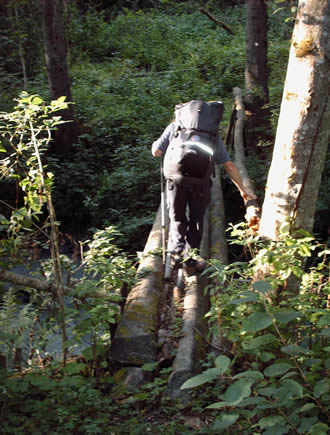 You have to be brave to be a Pilgrim!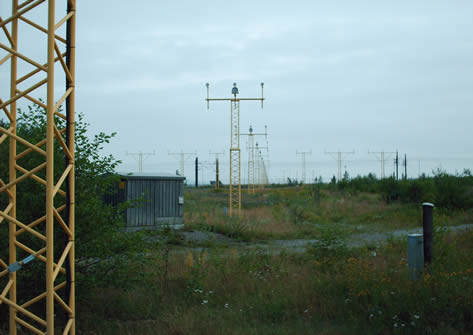 We got a little lost and walked a few kilometres the wrong way around the airport, misled by an out of date waymark that hadn't been removed. We were shattered and didn't have enough time to get out of the local town (Dal) to find somewhere to camp before nightfall. We ended up camping on waste ground between Lidls supermarket and the railway. It was Saturday night, we had walked for 5 days and were beginning to realise how hard this was going to be. Its a funny moment that happens a little way into any long journey, and though we were expecting it that doesn't blunt the existential angst. Why am I doing this? I am so tired and I still have so far to go! The photo shows Oslo Airport, we didn't use it but still had to walk around it. Twice.
We were still largely in suburbs with patches of woodland and agricultural land, but that was about to change. First we crossed the river Vorma. Looking North we could see the beginning of Lake Mjosa, which would dominate the first half of the journey.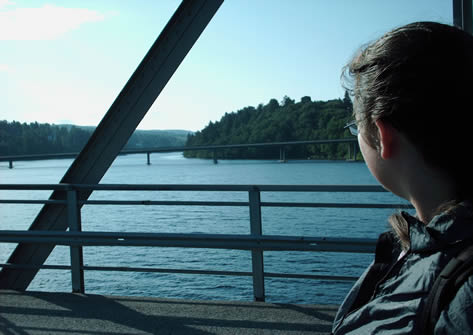 After a grub stop and replenishing our supply of tinned sardines and instant mashed potato (our staple trekking diet) at the garage, we covered the few kilometres to Sollihogda Trevarfabrikk (an isolated factory) and entered proper forest.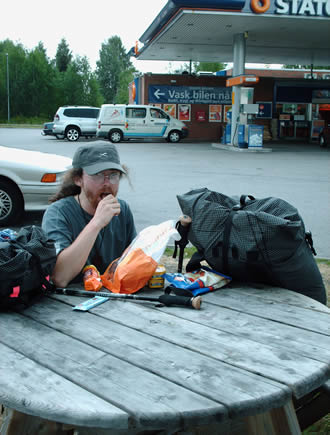 When burning 3500 calories per day, bad garage food suddenly becomes hugely alluring...
This photo shows one of the many styles of waymark on the route.
It would take us nearly three days to cross this patch of forest, it was amazingly beautiful, like something from the Lord of the Rings. It was easy going at first. We saw a sign for Lake Floyta and everything seemed to be going to plan.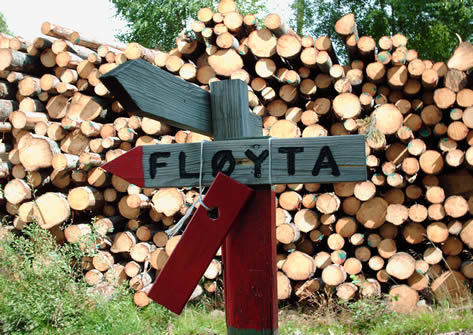 The way to Floyta, apparently...
However we soon entered an area that had been clear cut and the signs all destroyed. We found some red ribbons and followed these, but they seemed to take us a very bumpy route! We found a lake, but it seemed all wrong. We were lost. We wandered over to a little cabin, and a friendly couple popped out! They tried to explain where we were, and showed us a map, but they weren't sure where the official route went. We were at the wrong lake, and a few kilometres off track. It was, of course, pouring with rain too. We had to slop through a bog, and go round the edge of the lake, and then round another. We found red splashes of paint on some rocks, we had found a path, but weren't sure whether to go left or right along it. There are no photos of this part of the journey (we were a little too stressed...). We headed North deciding to follow the path, hoping it would eventually take us to a road. It was a very narrow and rocky path, and we followed it for what seemed like hours.
Eventually we found a road. Hurrah! And the sun came out! I emptied the water out of my boots, and we decorated the rocks with our wet clothes.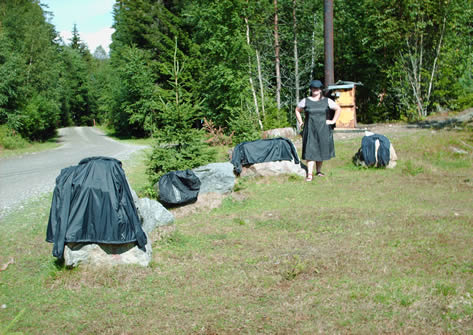 Fashionably black, but unfashionably wet camping gear. Kate made her dress from black pertex, it weighs less than 150 grams!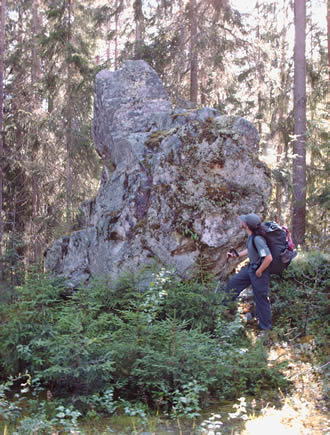 This forest did have some interesting things in it, like really big rocks.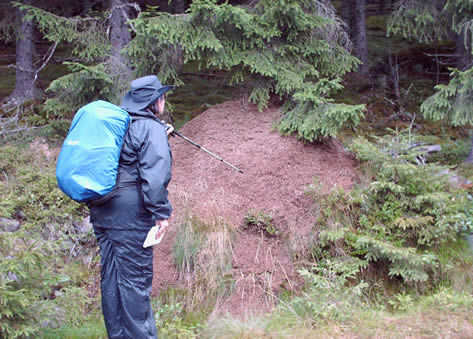 And really big anthills.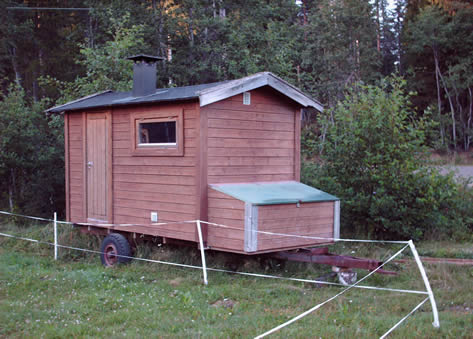 We came upon this very Scandinavian style caravan. I want one. It would be great just to see the faces at the Camping and Caravanning Club.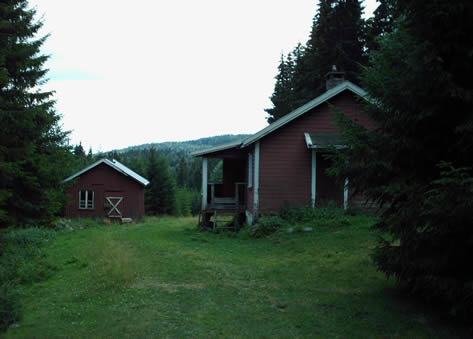 We came to Lysjoen, a pair of huts in the forest open to travellers and pilgrims. There was a fascinating visitors book for pilgrims, the first we had seen, it included notes by a guy walking to the arctic circle (in December!) and a few English speakers who had passed through before us that year. It looked like we were perhaps the 25th or so pilgrims to come through, which was also Eivind's estimate. We left a little note and had a relaxing lunch. Its strange how luxurious a chair can be after a week of sitting on logs or the ground. Then it was off, as it was too early to stop.
Evening was coming on and we passed a tiny hamlet called Finnsbraten and a lake. We knew there was free accommodation somewhere around here, at a place called Spitalen, but we had to go back and forth and ask twice before we found it. It turned out to be an old hut (presumably the old family house) in the garden of a slightly larger hut, which a friendly old man lived in. He didn't speak any English, and our Norwegian is terrible, but somehow he showed us how to turn the gas on and brought us a bucket of water. There were a few mouse droppings about, but we didnt care. It was paradise!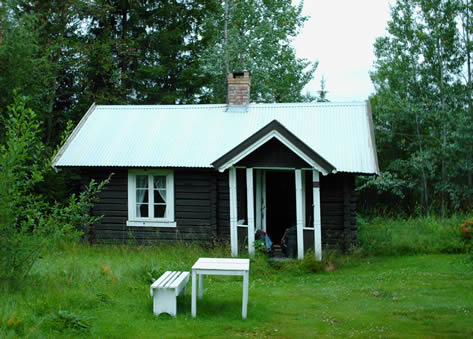 The hut looks a little unsteady, like we did by the time we found it...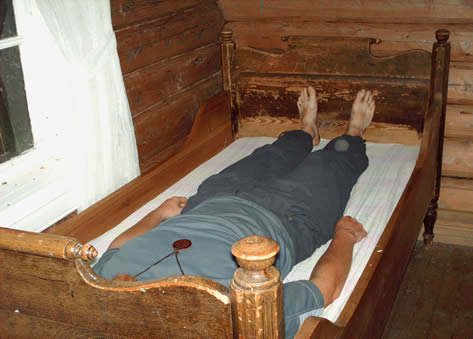 I am not a big man, but the old truckle bed was a bit of a squeeze. The inside of the cabin was beautiful.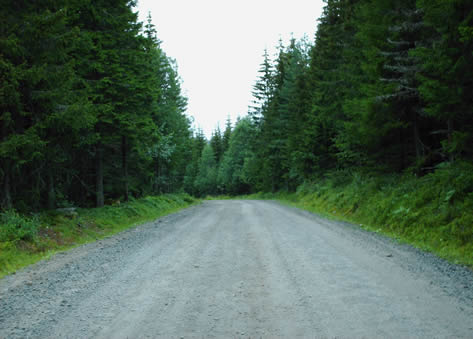 The next day we followed forest roads (less chance of getting lost) until we came out of the forest and again found ourselves in sight of Lake Mjosa.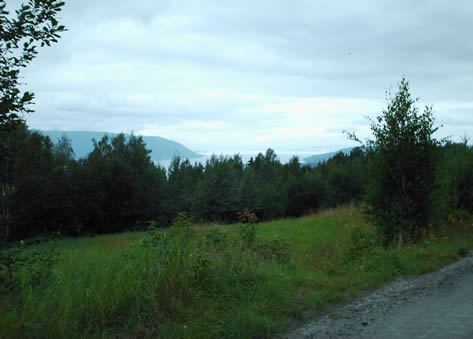 As we were walking along a couple chased us down the street, asking if we were pilgrims. They had heard that the route ran close, but had never seen a pilgrim on it, would we come for lunch? We went back to the Voll family's cabin, a holiday home they share with their extended family. It had stunning views over the lake, we could see the paddle steamer Skibladner crossing in the distance. They gave us a lovely lunch, (actually anything that wasn't instant noodles or instant mash based would have been lovely). It turned out their son Martin was travelling the world on a musical journey, (he has a website). Their other son, an army doctor, gave us a lift back to the route.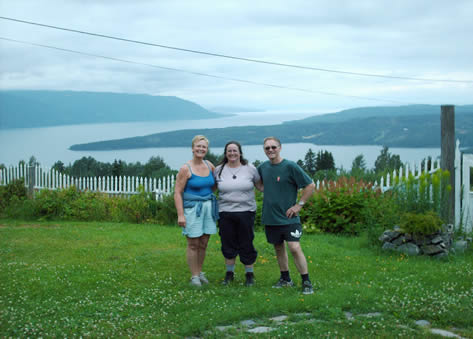 The kind Voll Family.
NEXT PAGE