Kate and Corwen's Norwegian Adventure page 2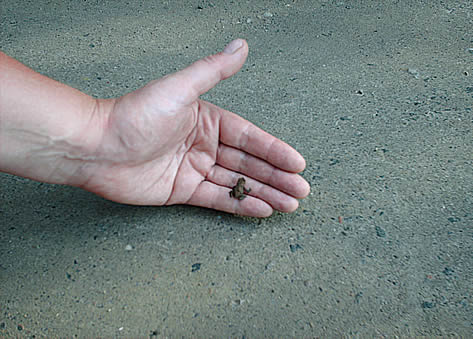 Highlights of the next few days included a plague of froglets.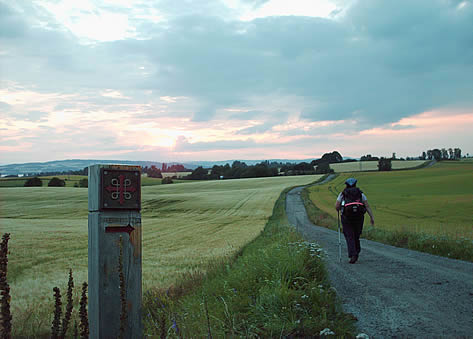 The land around Hamar is the best farmland in Norway and Hamar is the only old city not on the sea, presumably sited here because of the fertility. Norway is very bumpy, so any scrap of land flat enough to plough is highly prized.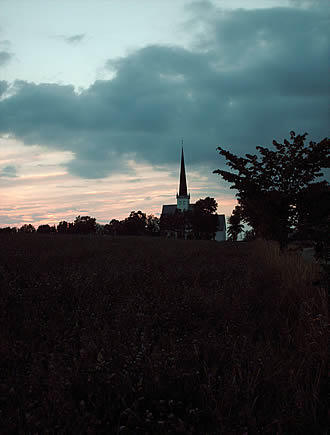 It was difficult to find places to camp in the open landscape, so one evening, running out of daylight, we raced to Stange Kirke to camp. Kate was tired, so I carried some of her kit, and promptly gave myself a bad blister on the ball of my left foot.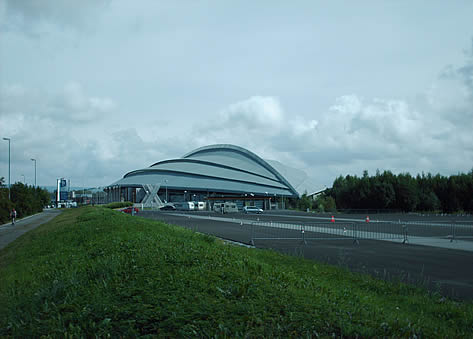 Anyway we eventually got to Hamar, starving (we ran out of food the previous day), ate a burger each on the way into town, at a greasy spoon, which cost about 20 pounds each. This was the least of our worries. We had decided to have a night at the youth hostel, so we could wash our clothes etc. We had been walking for 8 days and needed a break. The youth hostel cost 30 pounds each for the night, and that was without breakfast!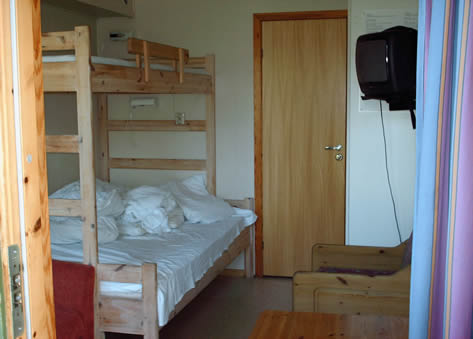 However it was a nice room, and it was good to rest. We were less than a third of the way through the journey, looking on a map of the whole of Norway a little progress was discernible, but we were worried that we would run out of time to finish the journey before our ferry home, and talked about getting a bus or train to a point further on. We decided to see how it went. We took a leisurely walk out of Hamar stopping off at the glass cathedral (the old cathedral protected in a greenhouse). Its odd as its open and sunny but still has the acoustics of a cathedral due to the glass. There was also an open air museum of old buildings, seems odd they need one as the whole of Norway is also basically an open air museum of old buildings.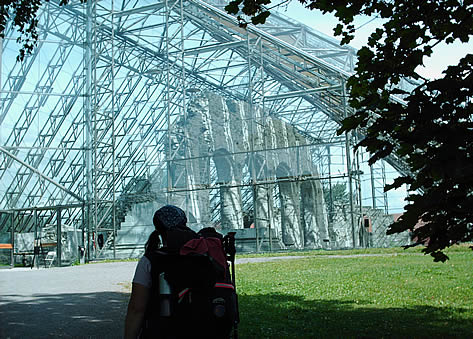 It is an absolutely stunning building.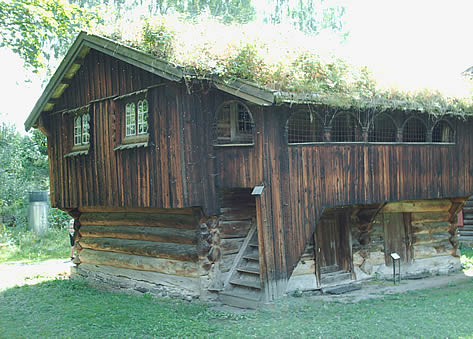 A building in the open air museum.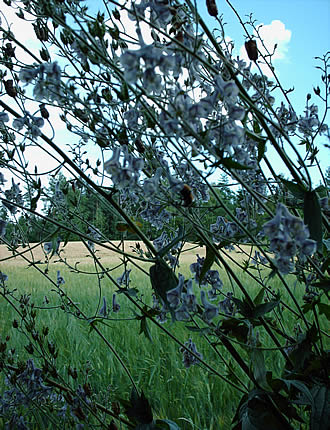 Delphiniums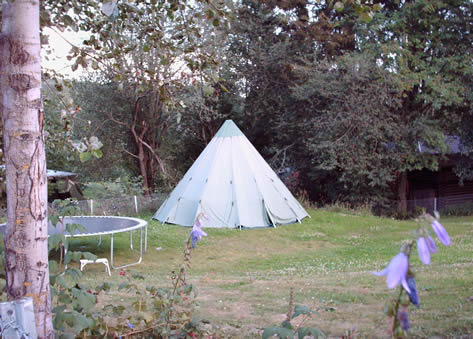 A Lavvu, the Saami tent that a lot of Norwegians use for camping. This one is very high tech and looks more like an Apollo rocket has landed here.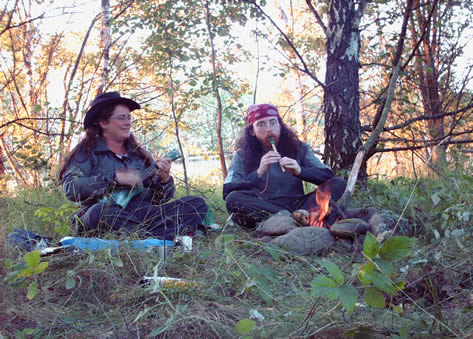 The countryside was full of delphiniums. We camped on the verge of the E6, tucked away in a little wood. It was secluded enough to light a fire, which was really nice. We got ukulele and a tin whistle out and had a jam.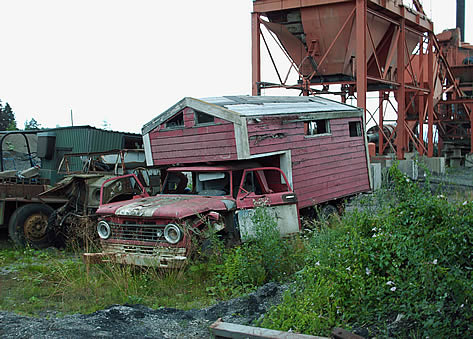 The next day we walked past old quarry workings and saw bear tracks, although the photo didn't come out so you'll just have to take my word for it! We also saw this old truck. Shame its on the scrap heap.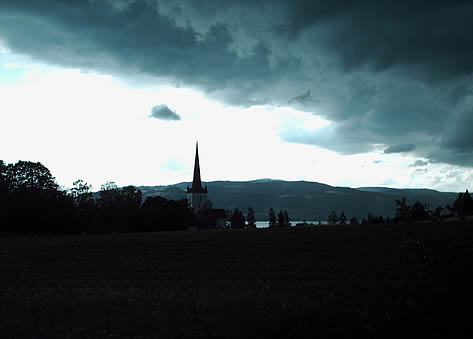 The weather was gaining on us, a really extreme storm was coming up the valley behind us. It was black and we could see lightning inside it! We rushed onwards for Ringsaker Kirke, a church which according to the guide book is very welcoming to pilgrims, the priest letting them stay in the village hall. When we got there, the church was open and we went in and introduced ourselves to the priest. He didn't seem very keen to see us and said this was a private service and threw us out into the rain!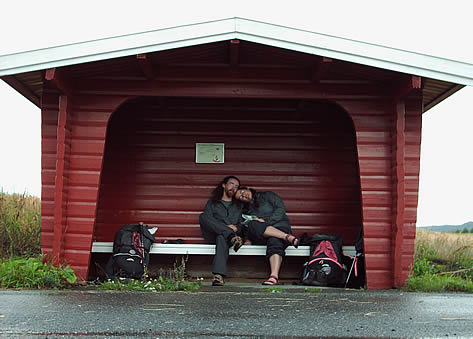 We sheltered in a bus shelter before finding somewhere to camp nearby as the rain eased off. I hope Saint James gives that priest piles!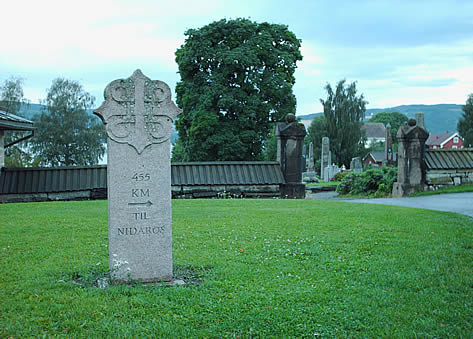 At least we had covered a little ground. 190 down, 455 to go.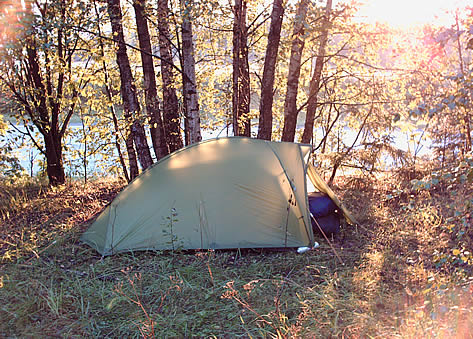 It brightened up as we pitched the tent.
The next day we saw: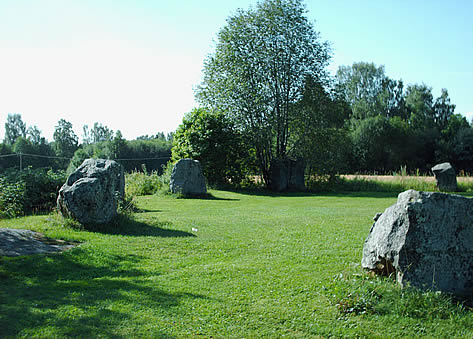 Tolvsteinringen Stone Circle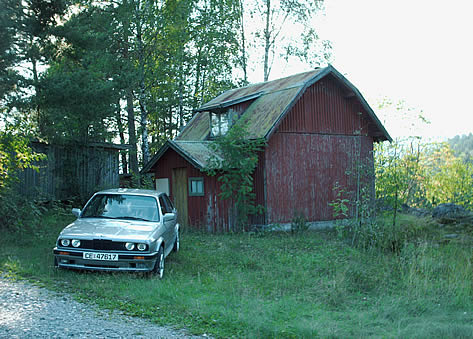 We thought this picture of a shiny car next to a crumbly hut kind of summed up Norway.
We camped on top of Olav's Kilde, a huge rock which has a slightly murky spring at its base. There is actually a cornfield level with the top of the rock, and our tent is on the edge of it, though in the photo it looks like its balanced on the top. The rock was lovely and warm, and stayed warm into the evening.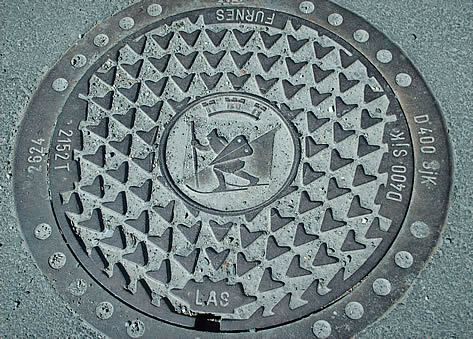 Furnes Kommune's Holy Manhole.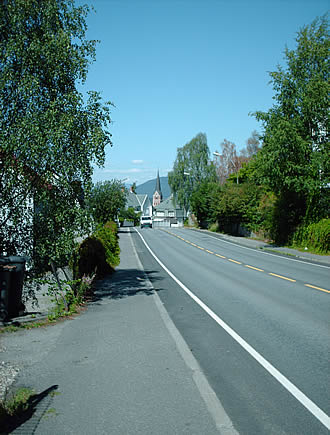 The next day we entered Furnes Kommune and then Lillehamar appeared on the horizon. The big city!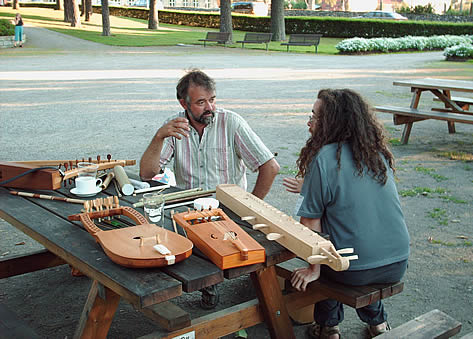 We got a room in the youth hostel and then met up with our friend Stein, who lives over the lake in Gjovik. We had a great chat about musical instruments.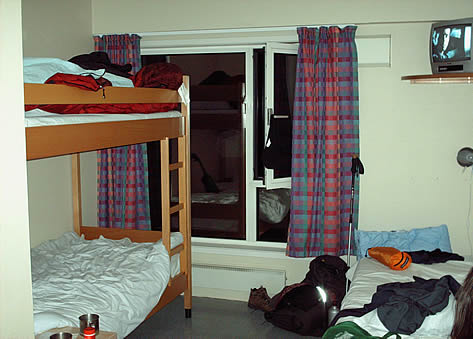 .
Its just as well our room was nice and had a tv, because after seeing Stein we went out for a burger and got food poisoning. We were both terribly ill, Corwen couldn't keep even water down for 24 hours. We ended up staying for 3 nights, which cost us 180 pounds! That was the whole accommodation budget gone in one swell foop and we were even further behind with the walking.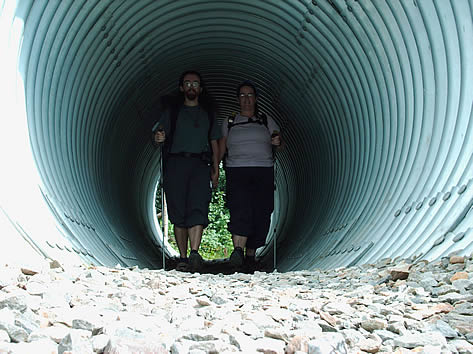 Strangely foreshortened photo of us walking under the road through a tunnel.
Moose on the Loose.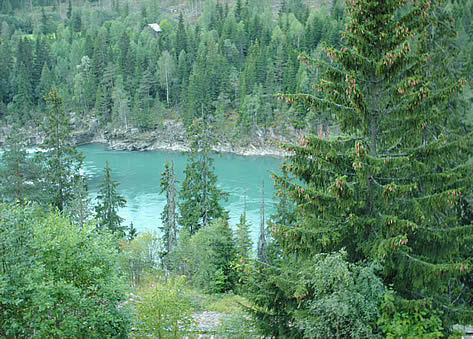 Lake Mjosa narrows here and is very green. In fact two rivers meet upstream, one green and one clear, as we would eventually see. The path starts going up and down the valleyside madly to stay off the E6 which occupies the flat land in the valley below. Good views but painful legs and tired backs.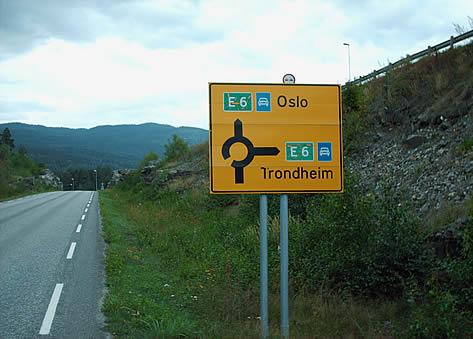 At Last Some Clear Waymarking... The E6.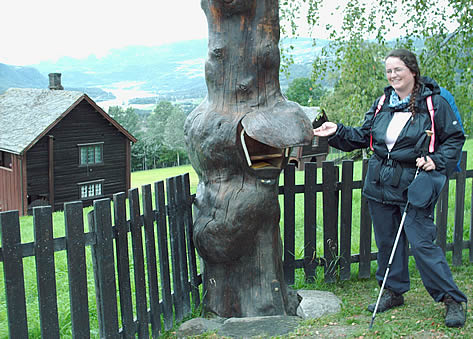 Funky Letterbox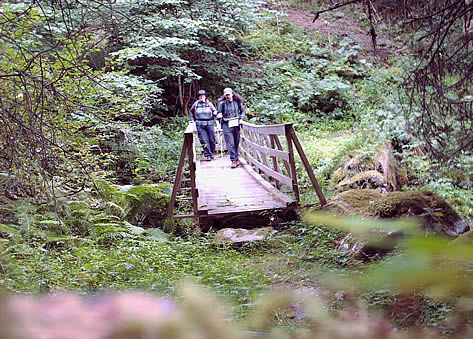 We climbed a long way up the mountain to get across this stream.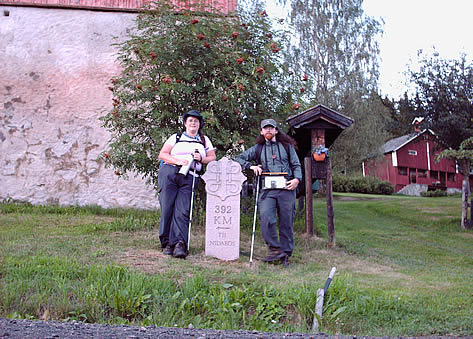 Milestone.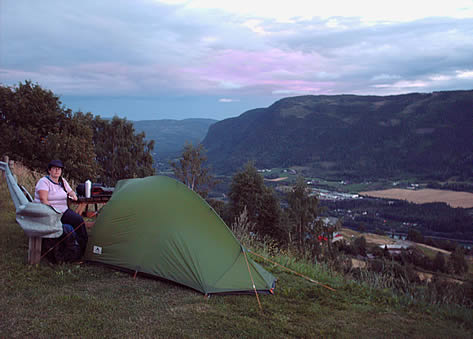 After a monster day we cheekily camped right close to a farm that offers pilgrim accommodation (for money) but they didn't seem to mind. A room with a view.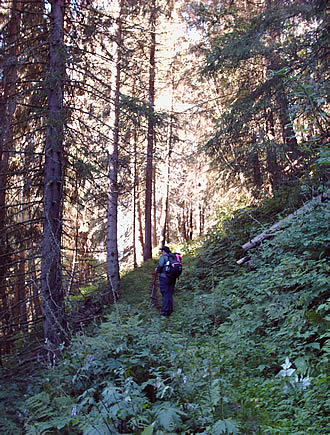 The next day the morning light was beautiful.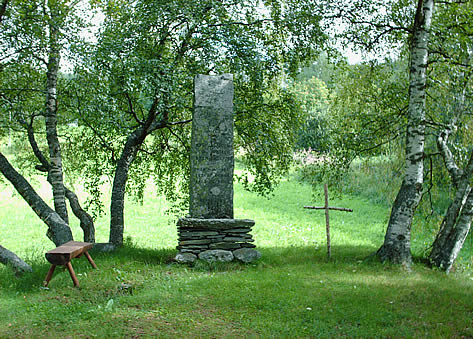 We met another pilgrim, Robert, an Englishman from Up North. It was lovely to meet someone else walking the path, we hadn't even met any other hikers at this point let alone pilgrims! We met him again later. Then we came to Kjorkehaugen, a mound that is the site of an old church, and still used as a place of worship. I have very rarely seen such a beautiful place with such a peaceful atmosphere. If only all Christian churches were like this. It really appealed to the Druid in us.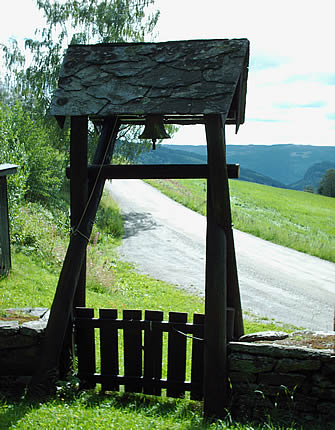 The Bell at Kjorkehaugen.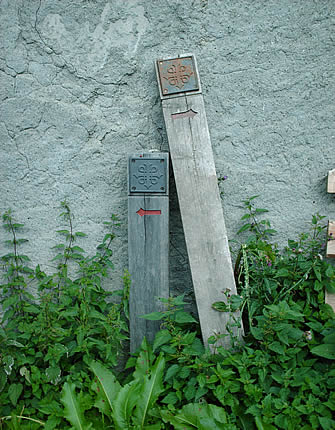 Tired Waymarkings.
Even more tired.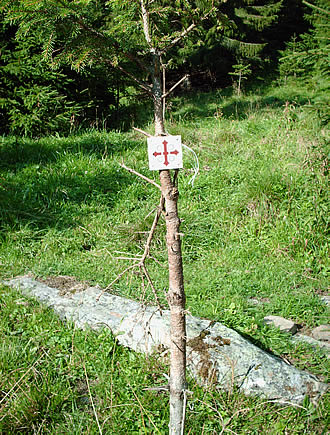 The waymarking got very bad on the next stretch, and the distances quoted in the guidebook seemed way out. We wandered around for a long time trying to find the way and eventually found a fallen waymark, which we stood back up and we also added a plastic waymark of our own. We got to Rollabru really late and hacked off! One of those days that really makes you wonder what you are doing.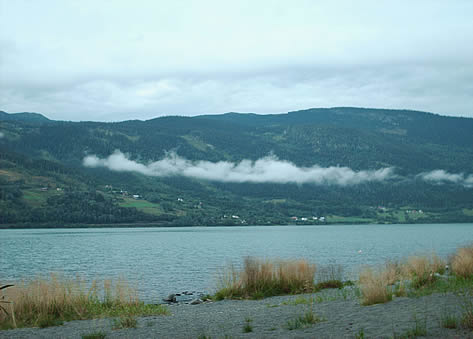 We crossed the E6 and camped for the night in a campsite. It was nice being by the lake and watching the clouds forming over the water.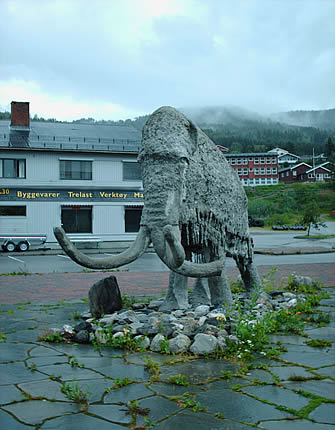 The next day we reached Favang. For some reason Favang has a badly sculpted concrete mammoth as its centrepiece. It does have quite a nice cafe though where we had an omlette, coffee and an ice lolly. The Kongsvein footpath starts in Favang and goes all the way to Ringebu stave church, nice walking if the weather hadn't gone all Norwegian on us. It rained heavily for the next 48 hours.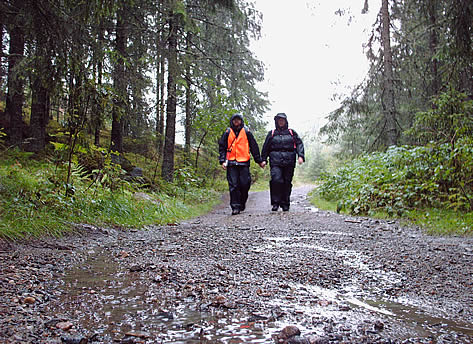 Kongsvein in the Rain.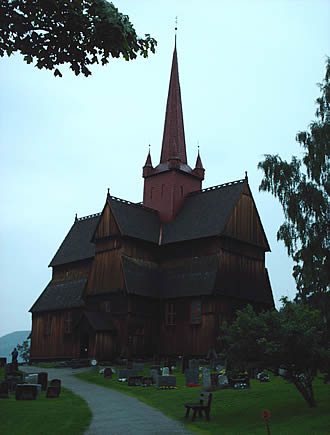 We finally arrived at Ringebu Stave Church. It is made of wood but there is not a single nail in the whole thing apparently. We took a lot of photos of the outside...